Freight Market Update: June 2023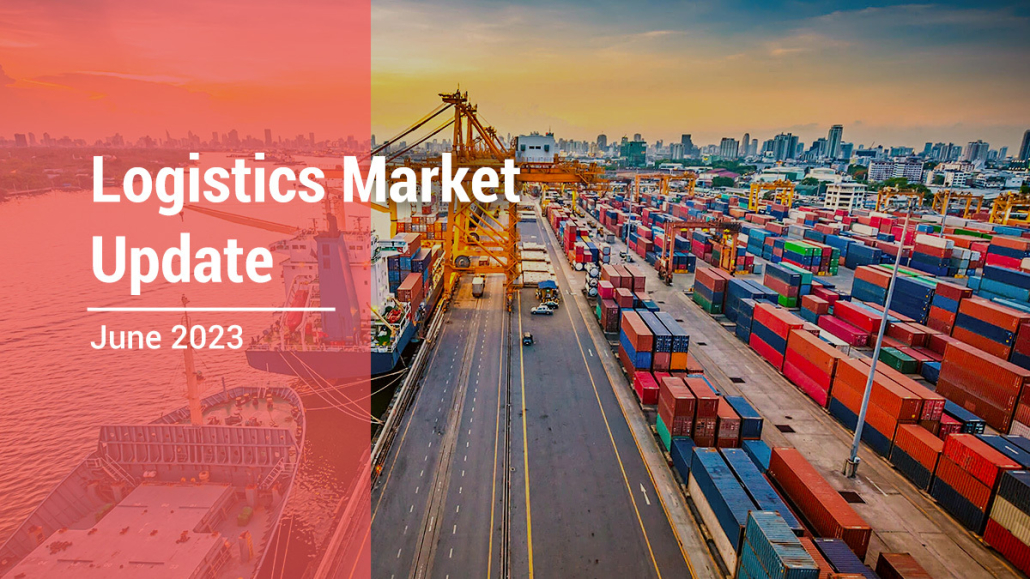 Monthly Highlights
Retailers Are Attempting To Adjust Their Supply-Chain Projections.
Retailers are actively striving to enhance supply chain forecasting in order to reduce disruptions and better satisfy customer needs. Traditional forecasting approaches, which are frequently based on historical data and linear forecasts, have proven insufficient in the face of unexpected occurrences like the epidemic.

To make accurate predictions, retailers are now using more sophisticated systems that blend real-time data, advanced analytics, and machine learning algorithms. Retailers hope to improve inventory management, optimize distribution networks, and reduce stockouts or surplus inventory by employing technologies such as artificial intelligence. The ultimate goal is to increase supply chain agility and resilience, allowing retailers to respond quickly to market shifts and give customers with a smooth shopping experience.
Source: https://www.wsj.com/articles/retailers-are-trying-to-fix-their-supply-chain-forecasts-82b6818b
US Business Logistics Costs Rose In 2022
According to a study, logistics costs for US businesses will rise significantly in 2022. Rising costs were ascribed mostly to issues such as labor shortages, capacity bottlenecks, and greater transportation costs. According to the analysis, total logistics expenses will rise by 12.6% in 2022, exceeding the entire economy's growth rate.

Notably, transportation costs alone increased by 18.4%, owing to rising fuel, trucking, and shipping costs. The labor shortage also contributed to higher expenses, leading to increased wages and difficulties in finding qualified workers. These rising logistical costs pose issues for firms, affecting profitability and potentially contributing to higher consumer pricing. To offset the impact of rising prices, the research underlines the importance of organizations finding creative solutions and optimizing their supply chain processes.

Source: https://www.freightwaves.com/news/us-business-logistics-costs-soared-in-2022-report-finds
Robots Are Looking to Bring a Human Touch to Warehouses
The essay delves into how robots are being designed to offer a human touch to warehouses, so altering how fulfillment centers operate. Robots have traditionally been used to automate monotonous and physically demanding jobs. However, technological improvements now allow robots to execute increasingly complex procedures that need human-like dexterity and perception. These sophisticated robots can manipulate fragile products, recognize objects, and communicate with humans and other machinery in the warehouse.

These robots aim to improve efficiency, accuracy, and production in fulfillment centers by merging artificial intelligence, machine learning, and sensory capabilities. By enabling faster order fulfillment and improved inventory management, the integration of robots with human labor is intended to streamline operations, decrease errors, and improve overall customer experience. This developing trend highlights the ability of humans and robots to effectively work in the warehouse industry, opening up new opportunities for enhanced efficiency and flexibility.
Source: https://www.freightwaves.com/news/us-business-logistics-costs-soared-in-2022-report-finds
Key Takeaways
IATA has stated that a global regulatory framework is required to encourage increasing investment in sustainable fuel generation. This is required if present carbon-neutral cargo movement targets are to be met.
The most recent disruptions caused by labor stoppages at US West Coast ports have dimmed recent optimism that an agreement was close; As the one-year anniversary of the negotiations approaches, shippers will almost certainly continue to explore non-West Coast port possibilities.
Strikes and wage conflicts continue to have an impact on airports around Europe. Actions may continue throughout the summer, causing additional disruptions and delays.
A harsh dry season has reduced the volume of containers and ships passing through the Panama Canal.
Airlines in the Middle East continue to invest in new routes and services, expanding connectivity into and out of the area.


Ocean Freight Market Update
May 2023 container import volumes in the United States climbed 3.8% from April 2023 to 2,097,313 Twenty-foot Equivalent Units (TEUs). TEU volume was down 20.0% compared to May 2022, but up 0.5% compared to pre-pandemic May 2019. As with the first four months of 2023, import volume increase in May continued to track 2019 numbers, with a 1.3% difference for the same period in each year.
Global Schedule Reliability
Schedule reliability continues its upward trend.
Asia
According to the most recent statistics from FourKites, the average export box dwell time in China has dropped to 4.8 days, a 62% decrease, as shippers continue to explore for alternatives in India, Southeast Asia, and other nations.
The Covid-19 epidemic has slowed the recovery of Hong Kong's container volumes. Much of the throughput traffic has transferred to neighbouring Chinese ports as a result of severe limitations on trucking and barge transit imposed during the outbreak. While volumes have returned to pre-pandemic levels, the current monthly containers are only at roughly 62%.
Europe
Demand remains under stress as a result of shifting consumer habits. Some sectors are showing signs that production could increase again, but overall output has yet to catch up with projections. Coasts stay clean, and keeping to schedules keeps getting better.


North America
Union Pacific and the BLET (Brotherhood of Locomotive Engineers and Trainmen) have reached an agreement allowing for up to a week of paid sick time for engineers. Union Pacific and the workers' sick leave agreements would increase by almost 68% thanks to this new arrangement. According to the Pacific Maritime Association, last Friday's ILWU work actions had an effect on the terminals in the Los Angeles/Long Beach Port complex, forcing some of them to cease operations. The conversations have turned due to a disagreement in salary expectations.
Air Freight Update
The performance of the North America-Europe trade lane also affected European airlines, which faced a 16.1% YoY decline in air cargo demand within Europe. Although these route areas experienced double-digit contractions in April, the robust growth of air cargo traffic on the Europe-Asia route area (up 3.4% YoY) helped mitigate the overall decline in demand for the region.

Asia
Korean Air's CEO has stated that his airline will not back out of its merger with Asiana. Regulators from throughout the world have spoken out against the $1.4 billion agreement announced in 2020 on antitrust grounds. The top brass is willing to compromise on the global stage in order to seal the agreement.
Hong Kong Airlines has stated that they will be expanding their services to other cities in Mainland China in response to rising demand. The airline will begin operating 10 weekly flights to Hangzhou, in addition to their daily service to Chongwing and Sanya, beginning in the month of June.
In response to the introduction of stricter requirements for truck drivers in Japan, Yamato and JAL have declared their intention to form a joint domestic freighter network. To support the new domestic cargo network, JAL has also started converting older passenger A321s into freighters.


North America
American Airlines intends to file an appeal to the federal verdict that found their partnership with JetBlue violated antitrust rules. The airline contends that there is no evidence of consumer harm as a result of the alliance and hopes that the appeal will allow them to proceed with the regional collaboration. Shippers in the United States have been warned that harsher cargo security standards will go into force in October 2023. Shippers whose cargo cannot be screened due to size or volume restrictions must enroll in one of the TSA's authorized security programs. The TSA established these criteria in 2021, and they have declared that there will be no further extensions, so forwarders must be cautious to be in compliance moving forward.
Freight Market and Amazon News
Amazon Turns to AI to Weed Out Damaged Goods
The article describes how Amazon is using AI to address damaged goods in its huge fulfillment network. Machine learning algorithms are identifying broken product patterns for the company. Amazon hopes to improve its quality control and avoid sending customers damaged products. The AI system can detect damage like dented packaging or broken parts and decide if a product is salvageable. This technology helps Amazon optimize operations, eliminate waste, and satisfy customers by shipping only high-quality merchandise. This supply chain segment shows how AI can improve quality assurance and e-commerce efficiency.
Source: https://www.wsj.com/articles/amazon-turns-to-ai-to-weed-out-damaged-goods-8572508d
Disputes And Terms Are Delaying Investments from Amazon's $1 Billion Logistics Fund.
In April of 2022, Amazon established the Amazon Industrial Innovation Fund, a $1 billion logistics fund dedicated to investing in businesses that leverage warehouse automation, robots, and transportation to enhance customer service and worker satisfaction. Sources claim that disagreements over who gets to make decisions and unattractive terms for possible investments have slowed the fund's deployment to around $110 million so far. Amazon claims that internal politics have not stifled the fund's growth and that its investments are on pace with those of other, comparable industry funds. Meanwhile, both Amazon and Walmart are investing heavily in fulfillment and delivery infrastructure, with Amazon using artificial intelligence to detect damaged goods and Walmart establishing new Market Fulfillment Centers run by their own in-house storage and retrieval system, Alphabot.
Source: https://www.pymnts.com/amazon/2023/report-most-of-amazons-1-billion-logistics-fund-remains-untouched/
91% Of Manufacturers Intend to Raise Prices In The Second Half Of 2023, A New Poll Finds.
According to a recent survey of manufacturing executives conducted by Forbes, Xometry, and Zogby, 90% of manufacturers intend to raise prices in the second half of 2023. In addition, the survey reveals support for President Joe Biden's manufacturing policies, as well as increased investments in artificial intelligence and facility reshoring. While optimism is rising, concerns regarding international trade disruptions and inflation remain.
Source: https://www.forbes.com/sites/amyfeldman/2023/06/14/91-of-manufacturers-intend-to-raise-prices-in-the-second-half-of-2023-a-new-poll-finds/?sh=5d64b74d5a8c
Forceget Digital Freight Forwarder is a leading NVOCC licensed global logistics company that specializes in parcel, air and ocean shipping. With offices in key locations such as the USA, China, Hong Kong, Turkey, Israel and Colombia, we are well-positioned to assist you with all your logistics and brokerage needs, no matter where you are located. We take care of all the complexities of international shipping, allowing you to focus on what you do best – competing in your local market. Additionally, we pride ourselves on being the number one Amazon FBA focused freight forwarder, ensuring that your products are delivered to Amazon warehouses in a timely and cost-effective manner. With Forceget, you can have peace of mind knowing that your global logistics needs are in expert hands.
https://forceget.com/wp-content/uploads/2023/06/market-update-june-2023-image.jpg
285
435
Forceget
https://forceget.com/wp-content/uploads/2022/06/forceget-logo.png
Forceget
2023-06-29 08:14:38
2023-07-17 09:25:16
Freight Market Update: June 2023