Freight Market Update: July 2023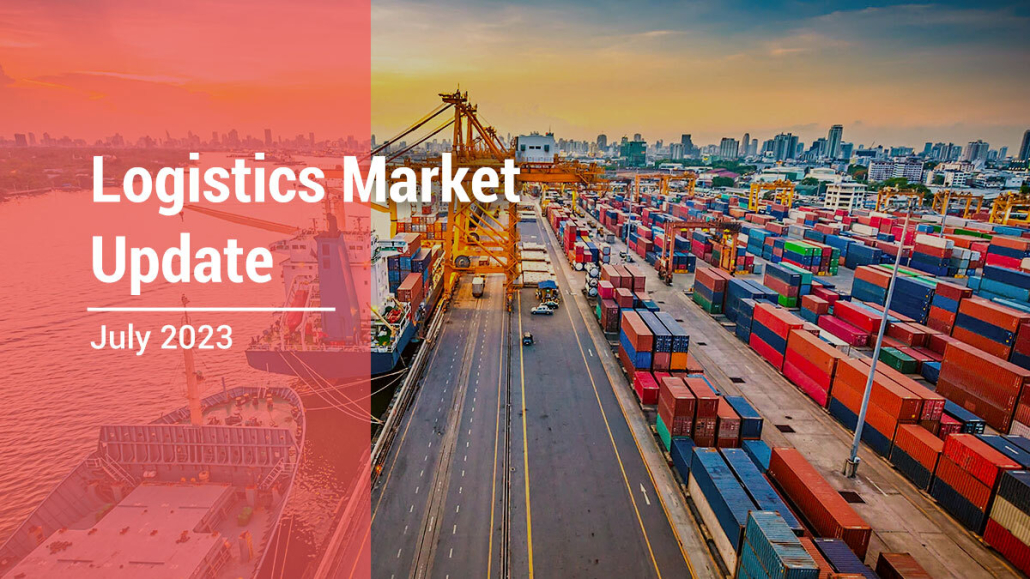 Monthly Highlights
Lower Freight Rates Entail Carriers Doing More With Less
Since 2021, global container freight rates have plummeted, and carriers are doing more with less. As airlines cut expenses, liner consolidation has increased. To focus on profitable routes, several carriers are decreasing services. Due to prolonged loading and unloading times, some ports are congested. It also reduces container capacity, which raises freight charges. Container freight rates are unpredictable, but carriers face a difficult climate.
Source: https://theloadstar.com/carriers-doing-more-for-less-as-lower-freight-rates-take-their-toll/
Yellow, the Third-Largest Trucking Company, Is Preparing For Filing Bankruptcy
US third-largest transportation firm "Yellow" is filing for bankruptcy. Due to financial instability, clients have been leaving the company. The Teamsters union is suing Yellow for higher salaries. Yellow's bankruptcy would be trucking's largest since 2001.
Source: https://www.wsj.com/articles/trucker-yellow-prepares-to-file-for-bankruptcy-as-customers-flee-281151a6
Shipping Industry Loses Billions To Bunkering Fraud During 2022
A fresh study says bunkering fraud robbed the shipping industry nearly $5 billion and damaged 600 ships last year. FuelTrust revealed that 39% of bunker fuel worldwide has "quality discrepancies." This signifies the fuel is tainted and can harm ships. The report also identified "endemic lack of transparency, fraud and insufficient supply chain control" within the bunkering sector. Fraudsters are hard to find and discipline.
Source: https://theloadstar.com/bunkering-fraud-cost-5bn-and-disabled-600-ships-last-year/
Key Takeaways
As shippers seek options to minimize delays, ongoing Canadian port strikes may increase air freight flow to US and Canadian airports.
Increased carrier frequencies and new routings into and out of US locations should improve air cargo capacity to Asian and European destinations.
Carriers operating in Asia are continuing to recover and engage in intra-Asian and global growth, offering greater capacity in the coming months and through 2024.
Talim, a category T8 typhoon, made landfall in China on July 17, forcing the closure of several box ports in Hong Kong and China.
Ocean Freight Market Update
Capacity remains stable. To stabilize the market, the main carriers are prioritizing trade routes and planning July blank sailings. Freight rates are constant with small increases on some trade channels. Since April 2022, China-US West Coast rates have grown by 20%, while East Coast rates have dropped by approximately two-thirds.
Global schedule reliability rose 1.7 percentage points to 64.2 percent in April, 29.9 percentage points better than last year. New ships will boost capacity and maintain demand. This may lower rates in the second half. However, the Ukraine crisis, inflation, and supply chain interruptions could affect the market.
Global Schedule Reliability
Schedule reliability continues its upward trend.
Asia
On July 17, category T8 typhoon Talim hit China, shutting down several Hong Kong and Chinese box ports. Talim will cause port congestion and delays.
Canadian port strikes have raised transpacific shipping rates. Asia-US West Coast and Asia-US East Coast SCFI (Shanghai Containerized Freight Index) increased 26% and 12%, respectively. US port rates may rise further if a new agreement is delayed.
Air Freight Update
The performance of the North America-Europe trade lane also affected European airlines, which faced a 16.1% YoY decline in air cargo demand within Europe. Although these route areas experienced double-digit contractions in April, the robust growth of air cargo traffic on the Europe-Asia route area (up 3.4% YoY) helped mitigate the overall decline in demand for the region.
Asia
Korean Air is reactivating Covid-19 routes. The carrier resumed three Chinese and multiple Japan destinations recently. Korean Air is growing throughout Intra-Asia and EU destinations, reaching 82% of its pre-pandemic capacity.
HNA Group wants to have 1,000 planes by 2029. HNA has about 800 aircraft and 100 regional jets on order, with more expected.

North America
San Francisco-Manila and Los Angeles-Tokyo and Hong Kong-Hong Kong routes have been announced by United Airlines. United Airlines will also fly San Francisco to Tapei twice a day.
Virgin Atlantic is expanding its A330 destinations. London-New York City-Atlanta-Tampa flights are now offered by Virgin. The two regions should boost cargo capacity.
As Canadian port strikes continue, officials expect cargo volume to shift to air freight to avoid bottlenecks and delays. If discussions stall and strikes persist, Canadian and US airports may experience more traffic.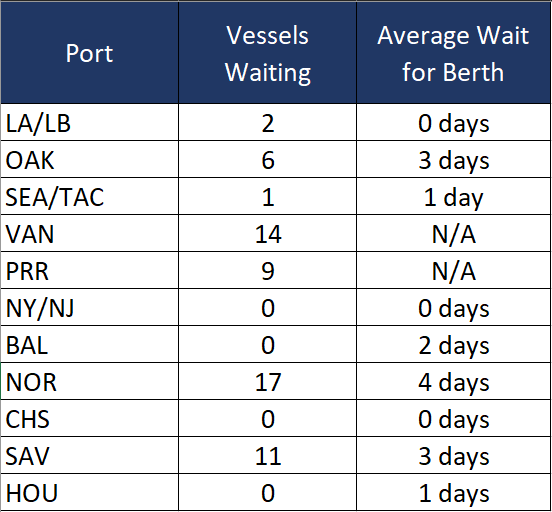 Freight Market and Amazon News
Amazon One Palm Payment Technology Coming to All 500+ Whole Foods Market Locations in the US
Amazon revealed "Amazon One" palm scanning technology at Whole Foods Market stores, allowing customers to link their palm identification to their payment methods for a safe and efficient payment process. The method aims to speed up transactions, protect user privacy, and spread its use to a variety of non-Amazon sites, giving customers a novel biometric payment option.
Source: https://www.aboutamazon.com/news/retail/amazon-one-whole-foods-market-palm-scanning
Amazon Introduced a New Page to Share Recalls and Product Safety Notifications With Users Through Their Accounts
Amazon provides a new web page for recalls and safety alerts. "Your Recalls and Product Safety Alerts" is in a customer's "Your Orders" section. Amazon customers will get a customized email with recall data and an alert banner on their "Your orders" section when a product is recalled. The "Your Recalls and Product Safety Alerts" page lists all Amazon product recalls and safety alerts. This page expands Amazon's commitment and transparency to safe and trustworthy buying.
Source: https://www.aboutamazon.com/news/how-amazon-works/amazon-creates-new-page-to-share-recalls-for-customers
Amazon Deliveries Made by Rivian EVs Surge to 150M
Since last summer, Amazon has stationed over 5,000 Rivian electric vans around the United States, delivering over 150 million parcels. The business intends to have all 100,000 EVs ordered from Rivian on the roads by 2030, saving millions of metric tons of carbon each year. Amazon's collaboration with Rivian is part of the company's broader sustainability aims, which include reaching net-zero greenhouse gas emissions by 2040.
Source: https://www.supplychaindive.com/news/amazon-deliveries-made-by-rivian-evs-surge-to-150m/686157/
Forceget Digital Freight Forwarder is a leading NVOCC licensed global logistics company that specializes in parcel, air and ocean shipping. With offices in key locations such as the USA, China, Hong Kong, Turkey, Israel and Colombia, we are well-positioned to assist you with all your logistics and brokerage needs, no matter where you are located. We take care of all the complexities of international shipping, allowing you to focus on what you do best – competing in your local market. Additionally, we pride ourselves on being the number one Amazon FBA focused freight forwarder, ensuring that your products are delivered to Amazon warehouses in a timely and cost-effective manner. With Forceget, you can have peace of mind knowing that your global logistics needs are in expert hands.
https://forceget.com/wp-content/uploads/2023/07/market-update-june-2023-image.jpg
285
435
Forceget
https://forceget.com/wp-content/uploads/2022/06/forceget-logo.png
Forceget
2023-07-31 11:12:32
2023-07-31 11:12:40
Freight Market Update: July 2023