Experience seamless warehousing and fulfillment solutions through our strategically located warehouses in California, Miami, New Jersey, Canada and, UK. From receiving and storing your shipments to efficient shipping to Amazon FBA centers, our advanced 3PL Warehouse Management System ensures direct access to critical product data, and streamlined tracking technology, enabling us to expedite shipments from our warehouses and transport your goods quickly according to your preferred timeline.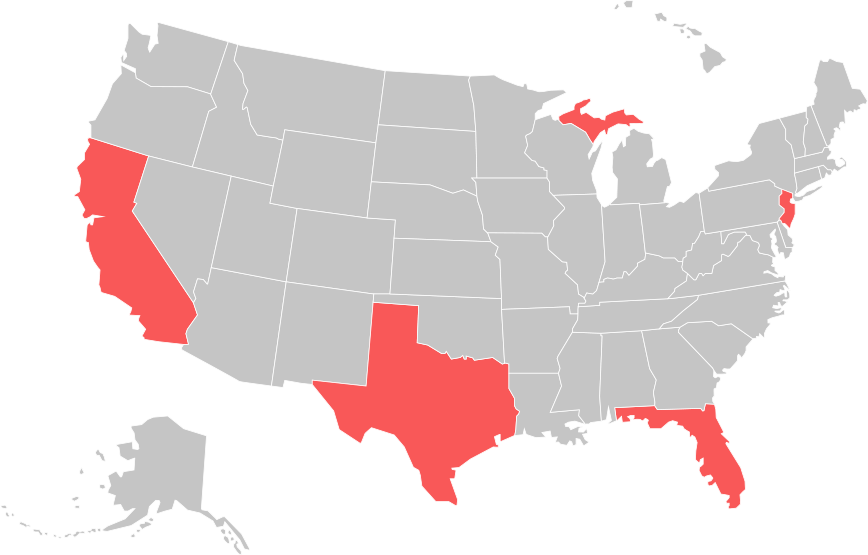 Forceget Warehouse Terms & Condition
For storage fee, Forceget will charge at the beginning of the month for the existing pallets and any new in-coming shipment through the month is calculated as 1 full month (The cartons received between 1-15 of each month will be charged full price of storage $35/pallet, the cartons received after the 16th of each month will be charged half price, $18/pallet).
Even if you have less than 20 cartons (etc. 7 cartons) storage, we have to charge min. 1 pallet fee, since we have to palletize your goods to store and it covers min. 1 pallet space.
We are doing our best to handle your in-coming and out-going shipments in 72 hrs. time. So we hope, above mentioned terms are also welcomed by you.
Warehouse invoice terms is 7 days.
We don't mix SKUs, 1 SKU per pallet.
If you have a last batch of goods inside our warehouses, we require to pay all open warehouse invoices before shipping out these goods. We reserve the right not to ship out your products from our warehouse in case of non-payment.
Customers using Forceget warehouse services agree that the limit of FORCEGET's Legal Liability for performance of Services hereunder shall be limited to the lesser of:
(a) The total amount of warehouse fees paid to FORCEGET in the preceding twelve-month period;
(b) The amount of any damages actually sustained, or
(c) $0.50 per pound multiplied by the weight of the lost damaged or destroyed Goods.