Freight Market Update: November 2022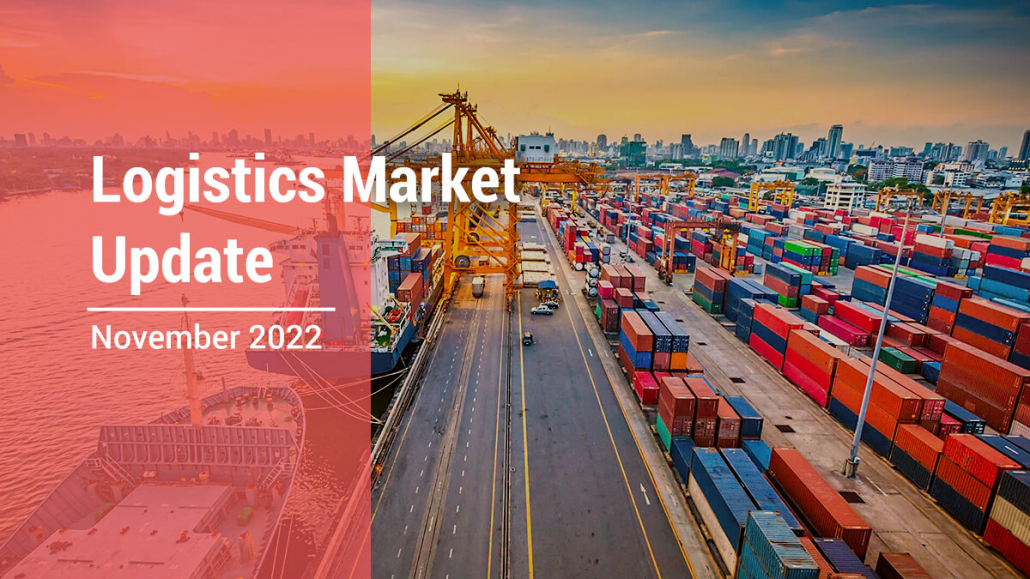 Ocean Freight Market Update
Asia to North America
Rates are expected to remain low for the foreseeable future.

The U.S.'s Transpacific East Bound (TPEB) demand is still quite flat despite the planned blank sailings through Week 42, which will be when most of TPEB capacity gets removed. Port and rail congestion at major US gateways such as Houston or Baltimore for vessel dwell 17-20 days each are seen; there's also some issues with Los Angeles/Long Beach due to how long trains stay stuck in one place while waiting on cargo shipments coming into those cities from elsewhere along their route line(s).
What We Recommend
It is always a good idea to book at least 2 weeks before your cargo ready date (CRD). You can also consider any upcoming blank sailings if needed!
Air Freight Market Update
Asia
North of China

The Covid situation in Ningbo is causing some issues for the shipping industry, with restrictions being placed on both commercial and air operations. These measures have led to an increase of rates across all tradelines but are still at low levels overall due primarily because there has been little change when it comes down how much cargo moves between different destinations within China itself instead along its borders where most countries can reach without too much difficulty or delay while other sources explain this issue more specifically detail plague-wise mentioning that "some cities" imposed static management starting October 16th which encourages citizens stay home unless they're sure their disease status isn't contagious."

South of China

The mainland Chinese market has finally returned to normal after a long holiday, but that doesn't mean things are getting any easier. Rates levels remain soft with decreased rates in Hong Kong.

Taiwan

Despite the slack market, demand has increased slightly.

Korea

The FEWB market demand is still soft, while TPEB has picked up some momentum.

Americas

Export demand remains steady from all markets.
The US airports are running at a normal pace.
Capacity is opening up further, especially into Europe.
Freight Market News
USA
Southern California's container ship backup has come to an end. The backlog of containers at the ports of Los Angeles and Long Beach, which reached a highpoint in February, has diminished to virtually nothing. According to the latest figures from the Marine Exchange of Southern California, there are only six containers waiting to be unloaded at the Port of LA and four at the Port of Long Beach. That's down from a peak of more than 31,000 containers in February.
China
Ningbo, a port city in the east of China, is facing supply chain disruptions as a result of zero Covid policies. Many factories and businesses have been closed since the start of the year, leading to a severe shortage of workers. The lack of available staff has caused significant delays in freight shipments and an overall decrease in production. This is leaving many sellers struggling to source products or face long delivery times. As a result, it is becoming increasingly important to pay close attention to inventory levels and plan for potential disruptions.
https://forceget.com/wp-content/uploads/2022/11/market-update-november-2022-image.jpg
285
435
Forceget
https://forceget.com/wp-content/uploads/2022/06/forceget-logo.png
Forceget
2022-11-04 18:55:36
2023-07-17 08:39:52
Freight Market Update: November 2022