What is the Logistics Outlook for 2022
In this article, you'll find an answer to "What is the logistics outlook for 2022?" question.
It is critical to examine what 2022 will look like for international shipping from China to US and other parts of the world. Many experts posit that considering the unending increase in demand for goods, the logistics industry is still likely to be clogged with high costs, delays, congestions, capacity, and equipment shortages in 2022. Market studies indicate that these issues will persist until there's a pullback in demand for goods.
Also, with the emergence of new covid variants like the Delta and Omicron variants, there's a risk of additional covid-related closure in 2022. Should this happen, productivity and port activities will be negatively affected.
Further, experts forecast that the issue of extended transit time will still be a thing in 2022. According to research, as of early December and mid-December 2021, the Transpacific Eastbound trade lane has increased to a record 106 days, while the Far East Westbound lane has increased to a record 112 days.
Additionally, labour relations and unforeseen events are other disruptive issues that should be considered and prepared against going into 2022.
On a positive note, 2022 will witness an increase in demand for 3pl and 4pl services due to the rise in demand that results in a surge in e-commerce. A study by Allied Market projects that the global 3PL market will hit $1.1 trillion over the next six years. Therefore, 3PL companies that provide warehouses in multiple locations will demand more, resulting in efficient last-mile logistics.
Similarly, 2022 is expected to feature advancements in technology such as Big data, IoT (IoT), and automation of shipping processes. These will make it easier to reduce inefficiency and make informed decisions. With reliable data, you can adequately understand customers' buying cycle, predict the best mode of transportation and carriers to use to maximize your profit. The increasing demand coupled with a shortage of labour and resources will make shipping digitalization continue to grow in the logistics industry in 2022 and beyond.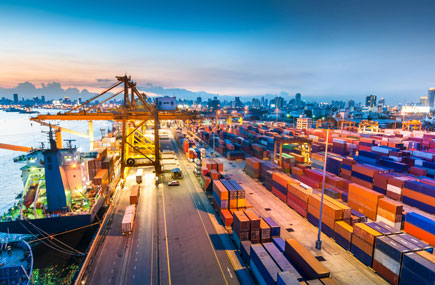 How to Manage Possible Logistics Issues in 2022
Optimize Container Use: Even though you can't totally use all the available space in a container, get as close to completely using the whole space. When shipping from China to the US, you may restructure your packaging to maximize your container space.
Consider Shipping LCL: Less than container load (LCL) are the shipments combined with other shipments to fill up a container. This saves you the shipping costs.
Use Digital Freight Forwarders: you can overcome the issue of congestion, delay, and others by utilizing digital freight forwarders' service. Some of the services they offer include instant quotation, swift online payment, 24/7 real-time tracking, round-the-clock customer support, reliable trucking services to Amazon FBA or your desired location, instant delivery notification, and more.
Establish Measures to Ensure Early Identification of Disruption: International shipping companies should design an early-warning system that enables response to unexpected threats with speed and innovation. Also, shippers should always consider shipping forecasts to know when and how to ship, especially when shipping from China to the US.
Supplier should Stick to Cargo Ready Date: a significant cause of supply chain disruption, delay, and order cancellation is the inability of suppliers to meet cargo ready date. Another solution is that carriers need to load several higher containers than they would load if they didn't overbook once they account for cancellations.
Maximize the Available Limited Human Resources: A viable way to address the issue of limited human resources is by deploying warehouse labour solutions such as warehouse robotics, warehouse management software, and other digital solutions. Using an AI-enabled optimization engine, logistics providers can utilize these solutions to broker services and optimize loads, capacity, freight, and routes.
Go Green: Engaging in environmentally friendly logistics practices or green logistics is a great way to prevent and manage possible logistics issues. Logistic companies can do this by building eco-friendly warehouses, using biodegradable packaging, electric and solar-powered vehicles, and calculating carbon footprints with softwares.
https://forceget.com/wp-content/uploads/2022/08/logistics-2022.jpg
285
435
Forceget
https://forceget.com/wp-content/uploads/2022/06/forceget-logo.png
Forceget
2022-08-07 17:17:56
2023-02-09 03:26:39
What is the Logistics Outlook for 2022