International Freight Forwarder
An international freight forwarder is a company that specializes in arranging the shipment of goods from one country to another. They make sure that the goods are transported safely and efficiently, while also making sure that all necessary paperwork and regulations are followed. Additionally, many international freight forwarders also provide services such as warehousing, customer service, tracking, insurance, and more. Essentially, they act as an intermediary between manufacturers, suppliers, and customers to ensure the smooth delivery of goods.
By choosing an experienced freight forwarder with a strong network of contacts in different countries around the world, businesses can benefit from faster transit times and lower transportation costs, enabling them to take advantage of global opportunities without compromising on quality. Moreover, they can even take advantage of specialized knowledge related to customs clearance procedures in various countries as well as other valuable services such as cargo consolidation and door-to-door delivery.
In addition to providing these services for their clients, international freight forwarders often have access to preferential rates due to their longstanding relationships with carriers around the globe. This means that businesses can benefit from lower shipping costs when using their services compared to those available through traditional carriers. As such, they are a great way for companies looking to expand into new markets or stream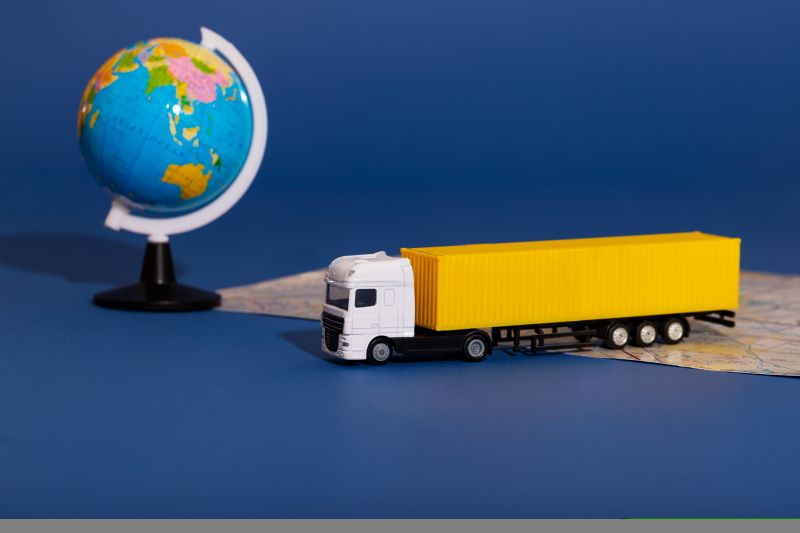 What is an International Freight Forwarder?
Companies that aid others in international freight shipping are known as "international freight forwarders." Goods transit, including customs clearance and paperwork, is under their purview. It is common practice for freight forwarders to leverage their international connections to secure preferential pricing and service provisions for their clients.
Freight forwarders assist firms compete on a worldwide scale by facilitating the international shipment of commodities. They are able to secure the greatest deals and services for their clients by using their expertise and connections within the shipping sector.
Types of Services Provided by an International Freight Forwarder
Companies that aid others in international freight shipping are known as "international freight forwarders." They are in charge of arranging everything from customs clearance to transportation of the products from one country to another.
An international freight forwarder can offer a wide variety of services to meet the demands of its customers. Common types of assistance include:
1) Clearing customs: A reliable international freight forwarder will be familiar with the customs rules of both the country of origin and the country of destination. Their assistance in clearing products through customs will be invaluable to their customers.
2) A good international freight forwarder will have a system in place for transporting clients' goods from one location to another. They will have the option of door-to-door service as well as air, sea, and land transport.
3) Most freight forwarders will cover their customers' goods with insurance in case of loss or damage during transport. This can provide relief for companies shipping valuable or delicate commodities.
4) The ability to track and trace shipments at all times is a must for every international freight forwarder that wants to keep their customers informed of their packages' whereabouts and when they may expect to receive them. For time-sensitive deliveries, this is crucial.
Advantages of using an International Freight Forwarder
There are many advantages of using an international freight forwarder. Perhaps the most obvious advantage is that it can save you a great deal of time and hassle when shipping goods internationally. A good freight forwarder will have a network of reliable partners that they work with on a regular basis, which means they can take care of all the coordination and paperwork involved in shipping your goods overseas. This can be a huge relief if you're not familiar with the ins and outs of international shipping.
Another big advantage of using a freight forwarder is that they can often get you better rates than if you were to ship your goods on your own. This is because freight forwarders have volume discounts with many different carriers, and they know how to shop around for the best rates. They can also help you avoid any potential problems with customs or taxes, which can be a headache to deal with on your own.
Overall, using an international freight forwarder can save you a lot of time and money, and make the process of shipping your goods overseas much simpler.
The Different Modes of Transport Used by an International Freight Forwarder
The term "international freight forwarder" refers to a business that facilitates the transfer of products across international borders. They are in charge of coordinating shipments and creating the necessary paperwork for passing through customs. Insurance, storage, and transportation management are just some of the value-added services provided by international freight forwarders.
International freight forwarders often employ one of three transportation methods: air, ocean, or land.
Shipping via airplane is the quickest and most expensive option. It is the norm for shipments of high value or urgency to employ this method.
Shipments sent through ocean take the longest to arrive but are the most cost-effective. It is commonly utilized for long-distance shipments or when speed is not crucial.
Transportation on land can be accomplished by either train or truck. It is the norm for shipments with a single point of origin or destination.
How to Choose the Right International Freight Forwarder
There are a few key factors to consider when choosing the right international freight forwarder for your business. Here are a few things to keep in mind:
1. Services Offered: Make sure the freight forwarder you choose offers the services you need. Do you need help with customs clearance? Do you need door-to-door service? Be sure to ask about all the services offered to make sure they can meet your needs.
2. Experience: Choose a freight forwarder with experience in shipping to your destination country. They will be familiar with the customs regulations and requirements and will be able to get your shipment through quickly and smoothly.
3. Pricing: Get quotes from several different freight forwarders to compare pricing. Be sure to ask about hidden fees or surcharges to get an accurate comparison.
4. Reputation: Check out online reviews of different freight forwarders to see what others have said about their experience. You can also ask for referrals from friends or business associates who have used international shipping companies before.
Documentation and Paperwork Required for International Freight
When shipping internationally, there is a lot of documentation and paperwork required in order to ensure that your shipment arrives safely and on time. Your freight forwarder will help you to navigate the often complex world of international shipping regulations and paperwork.
The most important document when shipping internationally is the bill of lading. This document serves as a contract between you and the carrier and includes important details such as the type and quantity of goods being shipped, the origin and destination of the shipment, and the agreed upon route. Both parties must sign the bill of lading before the shipment can take place.
In addition to the bill of lading, you will also need to provide your freight forwarder with a commercial invoice. This document itemizes the goods being shipped and must include information such as the value of each item, the HS code for each item, and any applicable taxes or tariffs. The commercial invoice is used by customs officials to determine whether any duties or taxes are owed on the shipment.
Other documents that may be required for your shipment include an export license (if required by the country of export), a Letter of Credit (if payment will be made via a letter of credit), and insurance documents (if you have arranged for cargo insurance). Your freight forwarder can advise you on which documents are required for your specific shipment.
https://forceget.com/wp-content/uploads/2023/03/international-freight-forwarding.jpg
285
435
Forceget
https://forceget.com/wp-content/uploads/2022/06/forceget-logo.png
Forceget
2023-03-21 09:00:00
2023-05-03 04:15:23
International Freight Forwarder