How to Use Amazon Brand Analytics for Effective Amazon Brand Development
Amazon Brand Analytics is a feature that helps marketers benchmark the performance of their Amazon brand. Let's find out how and for what purposes Amazon brand owners can use it.
What is Amazon Brand Analytics?
Amazon Brand Analytics, or as it is often called – ABA, provides data reports about how consumers perceive your brand. The tool allows sellers to view valuable insights on the purchase funnel, like what percent of consumers have an interest in their product, what keywords are most prevalent in their conversion funnel, how does the product match up with their target market's geographic location, which marketing strategies are most successful, etc.
With the help of ABA reports, you get an inside look at what buyers think about your brand and where you need to focus more efforts to strengthen it.
How Does ABA Work?
You must be a brand-registered seller to be able to use this tool. Sign in to your Seller Central, click on Reports and choose the Brand Analytics from the list.

It is quite easy for businesses to get started with the ABA, but the process of using it effectively and getting the most out of it is more complicated than it seems. The data generated by the tool is spread across multiple reports, and getting the context you need to actually translate it into action with positive results can be complex. Still, once you gain some knowledge and experience with it, it will be worth the time and effort.
The six reports provided by Amazon Brand Analytics offer a variety of information at each stage of the sales funnel. You can use this data in your decision-making process regarding product positioning and ad strategies. We are going to cover each of those revealing how exactly they can be used to strengthen your brand.
Amazon Search Terms
As the name suggests, the Amazon search terms report gives you access to data on how people search for products on Amazon. With this report, you can determine how people search for different products. It also provides data on trending keywords on Amazon that can help brands with their Amazon listings optimization.
Amazon Search Term allows to find out the following information about a specific product:
the keyword used to discover an item
keyword prevalence as opposed to other keywords
click/share rate
conversion rate
How can you take advantage of this data?
Obviously, you can learn which keywords and phrases drive your most profitable sales. You can also determine which keywords will produce the most clicks when marketing a product and discover new competitive search terms. By defining and using the most relevant keywords, sellers will be able to boost awareness of their products among the shoppers, reach higher ranking and establish a solid presence on the market.
Item Comparison and Alternate Purchase Behavior
The purpose of this report is to provide insights into the consideration phase of the funnel. The report allows brands to see which competing products are being viewed and purchased, giving them insights into how their marketing strategies perform. Having access to this data can provide crucial information that is not obtainable from third-party sales channels.
This report discloses the three products shoppers decided to purchase, rather than yours. It also reveals the frequency your product is compared to the top three products. What is the right way to utilize this data?
Discover your major competitors.
Create a marketing strategy targeting a competitor's product.
Counter competitors' USPs, provide additional depth to your product descriptions.
Market Basket Analysis
This report allows you to view other products that customers have purchased along with your products. This gives you a visual representation of consumer behavior breakdowns, which helps you determine what other items your buyer purchases. Additionally, you can identify which products will be sold instead of your own, if the buyer makes a change of mind.
So, with this report, you can find out the ASIN and the title of the product purchased most frequently alongside your product. How can you use that to leverage your brand?
Recognize possibilities to start a brand-new product.
Choose the most commonly purchased products with your company and add them to your target advertisements.
Setup or choose which products to roll up together in your promotion plan.
Demographics
This report provides insights on basic demographic data, like gender, the average number of orders, household income, education, etc. Using this data, brands can gauge the productivity of targeting strategy and make more informed decisions about their future product portfolio. Information on your target audience's demographics might help you recognize opportunities to market to a new audience and create personalized Sponsored Brand Ads for the audience that you target now.
With the help of this report, you can:
Refine your marketing personas.
Update your advertising strategy.
Get insights on brand-new products.
Repeat Purchase Behaviour
This report carries vital data on brand loyalty among Amazon customers. It is intended to aid in your understanding of the key factors in driving repeat customer transactions.
The report highlights the number and then the percentage of orders and buyers (first-time/repeat) based on their number.
So, what can you do with this information?
Understand the impact of repeat sales on your business and bottom line.
Discover which products build up repeat purchase traffic.
Serve up more repeat purchases, like by advertising.
With its help, sellers can evaluate the success of advertising campaigns to determine if they entice new customers or if they maintain existing customers and drive repeat purchases.
Amazon Attribution
This feature is still in the beta stage and can only be used in Canada, the US, the UK, and a few other European countries. These early adopters are now using this report to understand how their external marketing channels are impacting Amazon sales.
With its help, you can:
Learn how external ads impact your Amazon business success.
Implement on-demand advertising analytics to maximize the impact of your marketing messages.
Find out which of your strategies increase your sales the most and best convert your marketing efforts.
What Metrics Should You Track?
According to CNBC, digital ad spend increased by 12% in 2020. However, it is often not the quantity but the quality that defines the effectiveness of particular ads. Outlining how to communicate best with your audience is challenging for most brands. What's more, it is impossible to know how your content marketing, social media marketing, PR, and advertising is working unless you use analytics. So, brands are turning to ad monitoring tools to get detailed insights for targeted advertising campaigns.
Here are the top metrics your brand should be tracking in Amazon Brand Analytics in 2021: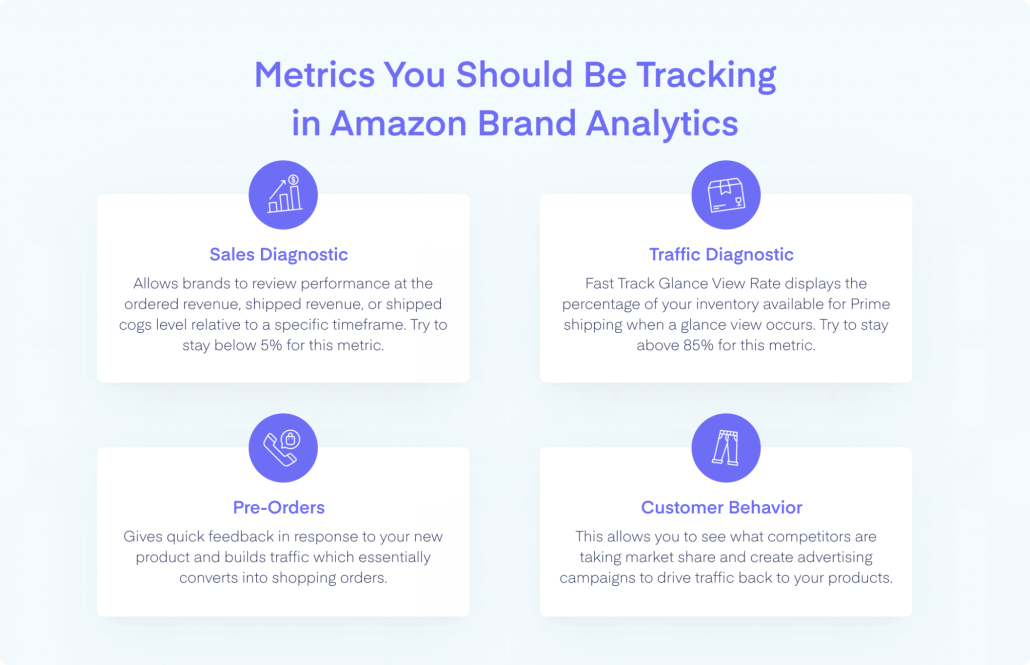 Final Word
As your brand image increases or lowers, you'll want to know what is driving that change. Amazon Brand Analytics can help with that. Combined with its powerful search capability, this tool can help you learn how consumers are perceiving your brand and where you can take your strategy next. The data contributed by Amazon Brand Analytics is a valuable point of reference for a seller who would like to better understand their potential customer base and augment their business strategy.
https://forceget.com/wp-content/uploads/2022/07/supreme-image.jpg
285
435
Forceget
https://forceget.com/wp-content/uploads/2022/06/forceget-logo.png
Forceget
2022-07-25 20:55:45
2023-02-09 04:05:33
How to Use Amazon Brand Analytics for Effective Amazon Brand Development