How Amazon Sellers Can Reduce Logistics Costs
Think of logistics and you may have visions of great cargo ships piled high with shipping containers. You may even be thinking "Thank goodness Amazon handles that part!" But if your business sells a physical product, you're already engaged in logistics – after all, you have to get your product to Amazon's warehouses in the first place.In this article, you will find an answer to the question, "How can Amazon sellers reduce logistics costs?"
Logistics: the #1 challenge for ecommerce sellers
Put simply, logistics covers the process of getting your product made, storing your stock, picking the items to fulfill a customer's order, and shipping them out to arrive in a timely manner. It also covers returns. Essentially, it's the nuts and bolts of your ecommerce business. Whether you do all of this yourself, or part of the process is fulfilled by an ecommerce platform such as Amazon, Walmart, or Wayfair, there will be a cost to you, the retailer.
As with all things, when it comes to logistics it pays to grow your business: on average, companies with annual sales under $100 million are spending almost 13% of their sales revenues on logistics, while those with sales over $2billion are seeing just 4.5% going on logistics.
But no matter what your size, every ecommerce seller wants to keep costs as low as possible. Yet the reality is that by offering free, fast delivery, Amazon has drastically altered customers' expectations, which in turn has driven up the cost of logistics to all ecommerce retailers.
Given these challenges, how can ecommerce retailers keep their logistics costs in check?
7 tips for keeping ecommerce logistics costs down:
Below are seven ways in which you can keep a check on your logistics costs, no matter how large or small your business is. And don't forget, it pays to invest – if you're selling on Amazon or Walmart, you might want to take a look at Payoneer's working capital offering to invest in logistics solutions, bringing down your costs overall.
1. Source products closer to home
When deciding where to source your products from, don't forget to include shipping prices in the calculation. Manufacturing costs may be cheaper in places such as China, but if the lower product cost is eaten up by higher shipping fees, it will be a false saving.
Regularly review your suppliers and look for alternatives close to home to ensure you're keeping your sourcing costs down as much as possible.
2. Lower your inventory costs
Inventory carrying is the second highest cost associated with logistics after transportation, accounting for almost 22% of logistics spending on average. Regularly reviewing your inventory can therefore really help to keep logistics costs down.
The larger your range of products is, the more you'll have to spend on storing inventory, so review your sales data to find out which products are selling most often, which are driving the highest amount of revenue, and which are languishing on the shelves.
You'll want to analyze the data all the way down to individual SKUs rather than product lines in order to consolidate your catalog to only the specific items that really sell.
Strip less popular products, colors or sizes out of your inventory by running a sale, offering them as a bundle, or even giving them away along with orders over a certain amount to incentivize sales, then reinvest in your bestselling item to further drive revenue.
Ecommerce sellers who use Fulfillment by Amazon are given access to a whole suite of inventory management tools to help with this process. You can access the tools through the Seller Central dashboard or via the Seller Central App.
3. Offer free shipping
It may seem counterintuitive to offer free shipping as a way to keep logistics costs down, but higher sales can help offset the cost of shipping because, as we discussed earlier, free shipping is one of the main drivers of online sales.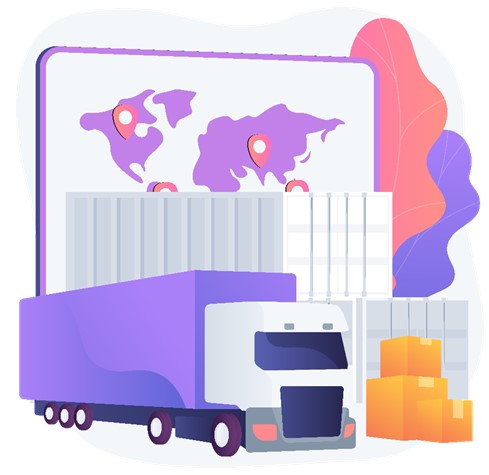 However, in order to ensure free shipping does actually pay its way and that you're not just losing money, you need to make sure you're offering it correctly.
Ecommerce retailers who sell low-margin products and want to increase their average order value (AOV) should consider applying a minimum spend threshold, over which the order qualifies for free shipping.
To set the threshold, calculate your AOV by dividing the total revenue generated by sales by the number of customers within a certain period. For example, if you made $50,000 in sales in a month, and had 1,250 customers in that month, your AOV would be $40. The threshold should then be set just above that figure, to lift your AOV by enough to cover the average cost of shipping per order. It's a good idea to experiment a little to find out what the best threshold is for your particular offering, and don't forget to add a prompt to customers who fall below it at the checkout page to entice them into adding another item to their cart.
Another option, for retailers who sell unique items not easily found elsewhere, is to offer free shipping at all order values by adding the cost of shipping to the retail price of your product.
Alternatively, retailers selling high-value products may wish to absorb the cost altogether, as the lure of free shipping may be enough to secure more sales which offset the cost.
4. Reduce your returns rate
Some ecommerce sectors such as fashion carry particularly high returns rates, which can dramatically increase logistics costs, especially if customers expect replacement items. Customers are loath to carry the cost of shipping returns and replacements and may switch to other competitors instead.
The best way to mitigate against this is to prevent the returns as far as possible in the first place.
Take the time to ensure that the product descriptions on your website or ecommerce store are as detailed and accurate as possible, to prevent returns due to the item being not as expected. Ask someone not familiar with the products to look over your descriptions to make sure they are as detailed as you think they are. Sometimes familiarity can blind us to how a description reads to a newcomer.
If your products come in different sizes, include a detailed sizing chart to make it as easy as possible for your customers to order the right size the first time around.
Some returns, however, are inevitable. In August 2021, Amazon launched two programs designed to allow sellers to re-sell returned items as 'used' to recoup some of the costs of returned items. Prices for the items are determined via a grading system, from 'like new' through to 'acceptable'.
5. Review your carrier options
Carriers alter their rates annually and even small price changes can have a big impact on your shipping costs, so make sure you're getting the best deal available at all times. Be aware that one size may not fit all, you might want to use a different carrier for small or local deliveries from the one you pick for your larger or most distant deliveries.
The major carriers include shipping calculators on their websites, and some third party services have sprung up to help you compare rates. Freightos, for example, helps you find the best prices available, and offers shipping tools for ecommerce retailers.
6. Distribute your warehousing
It stands to reason that the further you're shipping your products, the more it will cost you to send them. More established ecommerce retailers with a larger customer base can cut the overall spend by investing in multiple warehouses located in different regions; for example, Amazon operates 175 warehouses globally. This eliminates high distance – high cost shipping, and if the numbers stack up it can bring down the average shipping cost enough to pay for itself (and more).
To figure out where ancillary warehouses should be placed, review your customers' orders and group them according to zip code to find any hot spots. For example, if 20% of your custom is coming from Montana, it may make sense to place a warehouse in the state to service those customers.
3PL warehouses always should be one of the options for Amazon Sellers. Amazon especially reduce storage limits during the peak seasons and doesn't accept more inventory. Plan your inventory and choose a cost-effective 3PL warehouse.
7. Calculate FBA vs FBM
If you are selling on Amazon, a key decision to make is whether your orders are going be Fulfilled by Amazon (FBA) or Fulfilled by Merchant (FBM). FBA involves sending your products to Amazon to be stored in their warehouses and distributed through their delivery networks, with Amazon subtracting the cost of shipping from the funds it deposits in your account. FBM, as the name implies, means your product will be listed on Amazon and you will not be charged by Amazon for shipping, but you hold the responsibility for shipping the product yourself.
The right choice for you will depend entirely on your business. Xsellco offers a free online FBA tool which allows you to calculate which option is more cost effective for your circumstances.
If you do opt to ship yourself (or if you're not selling through Amazon), you may want to consider using the services of a third-party logistics provider to outsource your logistics. Not only will they store your products in their warehouses and take on the responsibility of shipping to your customers, saving you on warehousing and labor costs, they can also negotiate better carrying rates due to the high volume of bulk shipping.
How Payoneer can help
Whether it's to help you cover the upfront costs of third party logistics, or to re-invest in new products having streamlined your inventory, Payoneers's working capital offering can help you invest in better logistics solutions. In fact, Amazon and Walmart sellers can access up to $750,000 in instant funds.

Plus, the offer you receive is calculated based on your ecommerce business's performance alone, meaning there are no credit checks, while the payments are collected as a percentage of your future marketplace sales until you're fully settled. This takes out all the hassle from the application and repayment process. So, why not give your business the boost it needs to reach the next level?
https://forceget.com/wp-content/uploads/2022/12/amazon-sellers-can-reduce-logistics-cost-image.jpg
285
435
Forceget
https://forceget.com/wp-content/uploads/2022/06/forceget-logo.png
Forceget
2022-12-16 09:03:31
2023-02-08 05:02:17
How Amazon Sellers Can Reduce Logistics Costs