FBA vs FBM: Which Fulfillment Method is Better for Amazon
When you decide to sell on Amazon, you also need to determine what fulfillment method is better for your business. It can be a tough decision to make this, however, if you understand the basics of your business, outline your needs, and comprehend the pros and cons of FBA and FBM. You can easily opt for a perfect fulfillment strategy.
Read on to learn about the specifics of FBA and FBM and which fulfillment method is the right choice for your Amazon business.
Should I Do FBA and FBM?
To properly grasp the fundamentals of FBA and FBM, you must understand what they are. But before you sell your products, you must consider the regulations and the policies of Amazon whether you want to sell through FBA or FBM.
If you are OK with all those standards, let's take a deeper look at each of them and weigh the benefits and drawbacks.
What Is Amazon FBA (Fulfillment by Amazon)?
Amazon FBA or Fulfillment by Amazon is more extensively used by Amazon sellers when it is compared to FBM. This makes FBA the most popular fulfillment program.
Amazon Fulfillment Methods in 2021 – (Statista)
While selling on FBA, sellers list their products on the Amazon marketplace, and Amazon handles the rest. Amazon does all order fulfillment processes, including picking, packaging, and shipping.
Logistically, Amazon FBA is significantly simpler to set up and handle since Amazon bears the bulk of the duty.
What Is Amazon FBM (Fulfillment by Merchant)?
Amazon Fulfilled By Merchant (FBM) is a fulfillment method in which the Amazon seller is responsible for holding their Amazon inventory and picking, packaging, and delivering customer orders. FBM sellers are in charge of the entire order fulfillment process.
However, if taking on all of the obligations associated with the FBM program is not for you, Amazon sellers may outsource alternative 3PL logistic services like Eva.
FBA vs FBM : Pros and Cons
FBA and FBM business models are quite different, and which one is best for you will depend on the size of your business, the goods in your catalog, your own objectives, and plans.
Advantages of Amazon FBA
Amazon sellers submit their goods to an Amazon warehouse through Amazon FBA, and when there is an order, Amazon automatically fulfills that order. FBA program also covers customer support and returns.
Amazon charges a fulfillment cost as well as a monthly inventory storage fee when you are in the FBA program. The monthly inventory storage charge is for the expense of warehousing in Amazon's fulfillment facilities.
The fulfillment fee includes the expenses of picking, packaging, shipping, and customer care.
Here are some advantages of the Amazon FBA program;
1. Hands-off Fulfillment
The fundamental distinction between Amazon FBA and FBM is that it provides a completely hands-off fulfillment and shipping procedure. This is what makes FBA the most popular.
While selling on the Amazon FBA program, you will be in charge of finding and getting inventory, preparing your things for Amazon, and shipping them to Amazon; that's all there is to it!
Consequently, Amazon FBA sellers have more time to concentrate on growing their Amazon company and other responsibilities, with fulfillment and shipping handled utterly.
2. Prime Shipping
FBA-fulfilled items are eligible for Prime shipping. This implies that customers with an Amazon Prime membership can receive your item with free 2-day delivery (even 1-day shipping in some areas). This boosts the potential sales of your products as Prime members are keen to take advantage of faster shipping.
To put the possibility into context, over 110 million Prime users in the United States alone. They are much more likely to buy an item with the Prime badge than one with ordinary delivery.
3. Buy Box
Many criteria contribute to winning the Buy Box, and the fulfillment method is one. Sellers who use FBA have a better chance of winning the Buy Box than sellers who prefers other channels like FBM.
As you may know, products with a Buy Box have a higher chance (%82) of making a sale than others on Amazon. As a result, it is critical to winning the Buy Box as often as possible.
4. Customer Service & Returns
In addition to managing all fulfillment and shipping obligations, Fulfillment by Amazon also covers customer support and managing customer returns.
Customer service is a substantial overhead expense for online businesses, both time and money. Having this completely outsourced will provide you with more flexibility. In this way, you can operate your Amazon company more efficiently and successfully.
Managing returns requires a huge capacity, both in terms of human resources and physical warehouse space. Amazon FBA also involves managing all returned products not to have to handle returns by yourself. But you should not forget that this service is not complete as alternative 3PL return management services.
5. Search Results
Sellers using the FBA program have a better chance of ranking high in the product listing. Even though it is not announced officially, it is widely accepted that FBA is one of the most critical criteria in Amazon SEO. This leads to more visibility and revenue.
6. MCF (Multi-Channel Fulfillment):
The MCF program is an addition to multichannel retailers. MCF works similarly to FBA, except that Amazon fulfills orders from any sales channel, not only the Amazon marketplace.
You can sell your products from your own website or another marketplace using Amazon's fulfillment facilities. Inventory in Amazon warehouses can be used to service both Amazon customers and customers from other channels as well.
However, you must be prepared to pay. MCF costs are higher than FBA fees.
Disadvantages of FBA
1. FBA Fees
High fees are one of the most significant disadvantages of employing Amazon FBA. It must be included in your margins and, as a result, will decrease your revenue. As a result, FBA is more appropriate for small and lighter products.
Additional FBA Fees
Amazon funds for FBA service via user fees such as Professional Account fees, referral fees, fulfillment fees, and long-term storage fees, which are withdrawn from your Amazon Seller account balance before the money is sent to your bank account.
Inventory Fees
One of the key things of FBA is Amazon's same-day delivery ability via Prime shipping. This is only feasible if you have inventory near enough for Amazon to access it and, in most situations, load and deliver the order on the same day. As a consequence, when you sell as FBA, Amazon will keep your product in their warehouses and fulfillment centers on your behalf.
And of course, this is not free. Amazon charges sellers based on the physical volume of stored inventory and the length of time there. All these fees and inventory limits affect your control of FBA inventory and may cause stock problems.
2. Packaging Flexibility
Sellers that use FBA must adhere to Amazon's exacting packing criteria. If this is not done, the goods may not be sent to the consumer at all. As a result, preparing your items following the requirements outlined might be a non-creative, complex, and time-consuming operation.
Advantages of FBM
The seller is the one who is responsible for meeting the Amazon's service requirements for shipping and orders under the FBM program. In addition, for FBM orders, the seller must offer customer support and return processing.
1. Inventory Control
You can simplify your company more quickly if you have complete control over your inventory and warehouses.
In fact, once your inventory arrives at Amazon, there is far less insight into its status until it is sold. Maintaining complete control over your inventory with Amazon FBM reduces the possibility of running out of supply or mistiming a critical restock.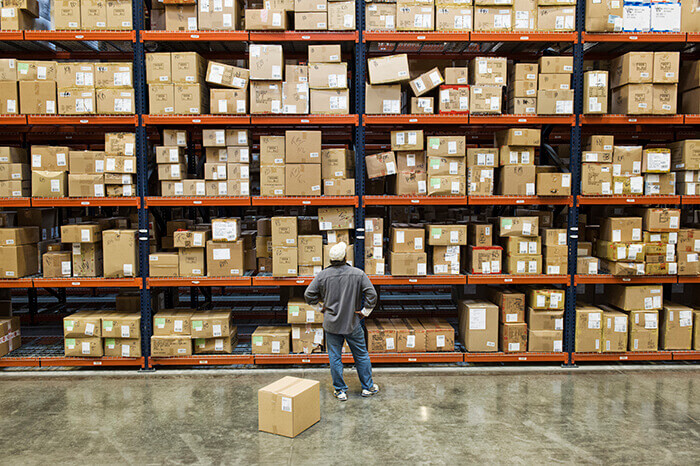 2. Less Amazon Fees Compared to FBA
One of the most important disadvantages of selling with FBA is the considerable rise in fees. When processing an FBA order, Amazon will charge both a referral fee and a fulfillment fee.
Furthermore, Amazon will charge storage costs for your product based on the amount and length of time it spends in their warehouses.
Although you will eventually be liable for shipping and storage fees, you will have more control over your spending. FBA costs are known to rise every year and during peak holiday buying seasons. At scale, Amazon's charge structures may make certain items less lucrative, if not unprofitable.
In FBM, fees can be significantly lower than FBA. This leads you to save money and have more control over your inventory.
3. Seller Fulfilled Prime (SFP)
While selling as a merchant fulfilled offer has the disadvantage of being less competitive for the Amazon Buy Box, there is a solution. Seller Fulfilled Prime is a halfway ground between FBA and FBM.
Seller Fulfilled Prime (or SFP) allows FBM sellers to provide Prime delivery on their items, making them much more competitive for the Amazon Buy Box. SFP or Seller Fulfilled Prime can appeal to sellers who want to retain more control over their company and operations while competing for the Buy Box like FBA does, thanks to Prime delivery.
4. Returns Management
The risk of a human mistake on Amazon's side, which often results in a return or refund being initiated by the customer, is a cause of conflict for FBA sellers.
Damaged inventory, missing items, and delays throughout the FBA process are considered the seller's responsibility, and their account may incur sanctions as a result. By keeping control of the fulfillment process with FBM, you eliminate Amazon as a possible point of failure between you and your customers.
Disadvantages of FBM
1. More Responsibilities
Amazon's FBM program entails the sellers in charge of order fulfillment and delivery to customers. Because Amazon places a high value on customer pleasure, any shipping or fulfillment process errors will fall on you, the seller.
Depending on the error or transgression nature, Amazon may suspend or cancel your Amazon Seller Account. With FBM, the seller handles customer service and returns, which takes time but drives you closer to your customers.
2. Less Chance to Win Buy Box
By providing Seller Fulfilled Prime, FBM merchants may raise their chances of winning the Amazon Buy Box.
Just keep in mind that Amazon FBA still has a little advantage over SFP in the Buy Box, but SFP is much superior to FBM.
3. Extra Expenses
FBM sellers must fulfill all orders individually without the help of Amazon FBA. While FBA sales include shipping and fulfillment expenses in their fees, the seller must meet FBM shipping charges individually. You will be completely responsible for storage and fulfillment, as well as any related or extra expenses.
Conclusion – FBA vs FBM
When deciding whether FBA and FBM or a combination of the two as SFP is the best option for you, consider the size of your company and any potential for growth, the product classes that you sell, and the goals of your business.
FBA may attract inexperienced sellers who want to concentrate more on growth. Still, experienced sellers with efficient operations and infrastructure may be ready to take on the rigors of FBM.
Before picking which to start with, think about what you're trying to optimize for and what you currently have in place. Good Luck!
| | | |
| --- | --- | --- |
| | FBA | FBM |
| Prime Shipping | Automatically eligeble | Only through SFP |
| Buy Box advantege | yes | no |
| Amazon SEO-Search Rank advantage | yes | no |
| Customer Service | Amazon is responsible | Seller is responsible |
| Returns Management | Amazon is responsible | Seller is responsible |
| Order Management | Amazon is responsible | Seller is responsible |
| Costs | High Fees / Better for small an light itemsSeller pays Amazon for storage, fulfillment, referral fee | Lower and more stable fees/Better for heavy, oversized itemsSellers only pay for referral fee to Amazon |
| Inventory Control | Limited Control | Total Control |
| Customized Packaging | Very Strict | If the seller wants, it is possible. |
About Eva
Eva is a comprehensive Amazon seller platform that provides solutions to Amazon sellers with its all-in-one services in multiple areas. Thanks to her AI-based technology and experienced specialists, she helps Amazon sellers to take advantage of many services at affordable prices on a single platform, saving both time and money.
Eva's cutting-edge technology brings together all of the most critical components of Amazon business into a single, easy-to-use dashboard.
She allows Amazon sellers to monitor & analyze their competitors and create pricing strategies.
Her artificial intelligence-based software always controls the inventory level of Amazon sellers in order not to be out of stock. It allows them to follow all the analytics of their Amazon businesses.
She audits all anomalies about returns, warehouse, accounting, inventory, and shipping and allows the Amazon expert team to manage the reimbursement cases.
In addition to these, Eva provides store management & advertising services and 3PL & Fulfillment solutions such as order fulfillment and returns management.
Concentrate on what matters most: growing your business and enjoying the independence.
Visit Eva today to save hours of time and increase sales. You can book a demo or start a 15-day free trial.
https://forceget.com/wp-content/uploads/2022/08/warehouse-image.jpg
285
435
Forceget
https://forceget.com/wp-content/uploads/2022/06/forceget-logo.png
Forceget
2022-08-14 17:16:58
2023-02-08 08:47:55
FBA vs FBM: Which Fulfillment Method is Better for Amazon