Beginner's Guide to Starting Amazon FBA
Starting Amazon FBA business could be successful for business owners. You can reach millions using Amazon's infrastructure and customers. Aspiring entrepreneurs may find it exciting and profitable to launch an Amazon FBA (Fulfillment by Amazon) business. FBA provides a special opportunity to use Amazon's extensive infrastructure and customer base to leverage online sales. This thorough guide will go over the necessary actions and important factors for beginning your Amazon FBA journey.
Above all, grasping the concept of FBA is of utmost importance. As an FBA seller, you enjoy the benefit of storing your products in Amazon's fulfilment centers. Amazon takes full responsibility for inventory management, packaging, shipping, and even customer service. Consequently, when you send your products to Amazon, they take charge of the entire logistics process, freeing you up to concentrate on other aspects of your business.
You must create an Amazon seller account before getting started. Individual and Professional are the available options. Those who intend to sell fewer than 40 items per month should choose the Individual plan, whereas high-volume sellers should choose the Professional plan. Select a plan that supports the objectives and needs of your company.
Starting an Amazon FBA business could be successful and fulfilling for business owners. By utilizing Amazon's extensive infrastructure and customer base, you can connect with millions of potential customers globally. By carefully planning, picking the right products, and optimizing your business, you can create a prosperous Amazon FBA business. Take the first step today to begin your Amazon FBA entrepreneurial success journey.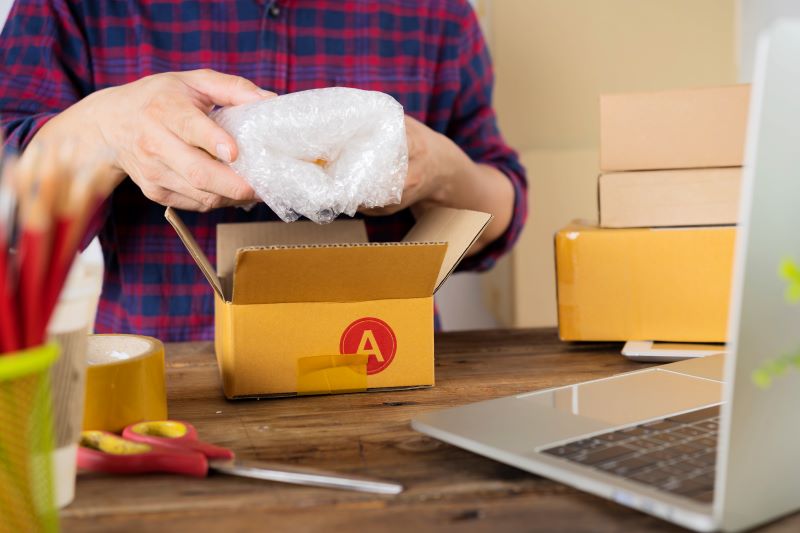 Introduction
If you're an aspiring online entrepreneur seeking a lucrative opportunity, selling products on Amazon is your ticket to success. This article presents a detailed, step-by-step plan that will guide you towards a successful launch of your Amazon FBA business and pave the way for sustained prosperity.
Market Research and Product Selection
Essential Initial Steps for Launching an Amazon FBA Business: Conducting Effective Market Research and Choosing the Perfect Product. Discover the following guidelines to successfully navigate through the critical early stages of starting an Amazon FBA business, from conducting comprehensive market research to identifying the ideal product for your venture.
Understanding Market Demand
To identify a profitable product, start by researching market demand. Utilize tools like Jungle Scout or Helium 10 to analyze product trends, search volume, and competition. Look for products with steady demand and low competition to increase your chances of success.
Identifying a Niche
Finding a profitable niche within a broader market can be a game-changer for your Amazon FBA business. Focus on products that cater to a specific target audience, allowing you to stand out from competitors and build a loyal customer base.
Market Demand: Examine competitors, research trends, and choose products that are in high demand and face manageable competition.
Profit Margins: To ensure a viable business opportunity, compute product costs, fees, and potential profit margins.
Passion and Knowledge: To stay inspired and provide insightful advice, pick a niche that fits your interests or areas of expertise.
Analyzing Competitors
Carefully study your competitors to understand their product offerings, pricing strategies, and customer reviews. Look for gaps in the market that you can fill with a unique product or enhanced features.
Product Sourcing
Exploring Sourcing Options for Your Profitable Product: Manufacturers, Wholesalers, and Private Label Suppliers. After identifying a lucrative product, it's time to delve into various sourcing avenues. Assess factors such as product quality, pricing, and shipping logistics to establish a seamless supply chain that guarantees your business success.
Online Marketplaces: Explore platforms like Alibaba, AliExpress, or Thomasnet to connect with suppliers globally.
Trade Shows and Exhibitions: Attend industry events to meet suppliers face-to-face, negotiate deals, and build relationships.
Product Samples and Testing: Request samples to evaluate the quality and suitability of products before committing to larger orders.
Setting Up Your Amazon Seller Account
Become an Amazon Seller: Essential Steps to Register and Start Selling. Before selling items on Amazon, it is necessary to complete the registration process as a seller. Below, we provide a detailed explanation of why this step is crucial and how you can successfully navigate the registration process to kickstart your selling journey.
Registering Your Account
Visit the Amazon Seller Central website, select "Register Now," and carefully fill out the form according to the guidelines. Give complete information about your company, contact details, and a working bank account for processing payments.
Choosing a Seller Plan
Select the appropriate seller plan based on your business requirements. Amazon offers two options: Individual and Professional. Evaluate the benefits and limitations of each plan to make an informed decision.
Product Listing and Optimization
Use relevant keywords, captivating product descriptions, and excellent images to create compelling product listings. To increase visibility and draw in potential buyers, optimize your listings using SEO strategies.
Inventory Management
Explore Amazon's FBA Service for Storage, Packaging, and Shipping. Sustaining a streamlined inventory management system is vital to guarantee a consistent supply of your products. By utilizing Amazon's FBA service, you can delegate tasks such as storage, packaging, and shipping, freeing up your time and resources to concentrate on expanding and growing your business effectively.
Marketing and Promoting Your Products
Key Marketing Techniques for Your Amazon FBA Products. Effective marketing and promotion strategies must be put into practice if you want to increase sales and outperform your competitors. To increase the visibility of your product and ensure its success on the Amazon platform, take into account the following strategies.
Amazon PPC Advertising
Harness Amazon's Pay-Per-Click (PPC) Advertising Platform for Enhanced Visibility and Expanded Reach. Utilize the power of Amazon's PPC advertising platform to amplify your product's visibility and connect with a wider audience. Conduct meticulous keyword research and optimize your PPC campaigns strategically to optimize your return on investment and achieve maximum impact.
Social Media Marketing
Leverage Social Media Powerhouses for Brand Awareness and Targeted Traffic: Engage, Attract, and Drive Sales. Tap into the immense potential of popular social media platforms such as Facebook, Instagram, and Twitter to cultivate brand awareness, connect with your desired audience, and direct traffic towards your Amazon product listings. Craft a tailored social media marketing strategy, designed specifically for your niche, to effectively engage users, generate interest, and ultimately boost sales.
Influencer Partnerships
Tap into Influencer Marketing for Enhanced Product Credibility and Expanded Reach: Collaborate with Niche Bloggers, YouTubers, and Social Media Influencers. Strengthen your product's position by partnering with influential individuals who resonate with your niche. Engage bloggers, YouTubers, and social media influencers to promote your offerings, amplifying your product's credibility and extending its reach to a diverse and broader audience.
Providing Exceptional Customer Service
Prioritize Exceptional Customer Service for a Thriving Amazon FBA Business. Pay attention to the following aspects:
Prompt and Clear Communication
Respond to customer inquiries and messages promptly and professionally. Clear communication fosters trust and encourages positive reviews and repeat business.
Efficient Order Fulfillment
Safeguarding Packages and Timely Delivery. Guarantee the secure packaging and timely shipment of your products. Vigilantly monitor the shipping process to swiftly address any potential concerns. Enhance customer satisfaction by providing transparent tracking information, ensuring transparency and peace of mind throughout their purchase journey.
Conclusion
Congratulations! You've now gained a comprehensive understanding of how to successfully launch your Amazon FBA business. Remember, thorough market research, effective product selection, optimized listings, strategic marketing, and exceptional customer service are vital components for outranking your competitors and achieving long-term success. Take action on the insights provided in this article, and embark on your journey as a successful Amazon FBA seller today.
https://forceget.com/wp-content/uploads/2023/07/Starting-Amazon-FBA1.jpg
285
435
Forceget
https://forceget.com/wp-content/uploads/2022/06/forceget-logo.png
Forceget
2023-07-03 06:30:00
2023-07-03 09:55:27
Beginner's Guide to Starting Amazon FBA